Every once in a while we run across a real gem that simply too good not to share. That's absolutely the case with a locals place in Las Vegas called "Steiner's- A Nevada Style Pub". If you're a local then you know that Vegas has no shortage of local hangouts. Standing out from the sea of competition is no easy task. Yet Steiner's does so easily. We can say, without a doubt, we have yet to try anything on the menu that wasn't simply excellent. It doesn't matter if you come here for the brews (two for one beers on tap, hello?) or the sports (TVs are everywhere!) or the atmosphere, Steiner's if you don't try the food, you're missing out on one of the best local restaurants in Las Vegas.
Simply Stellar Sandwiches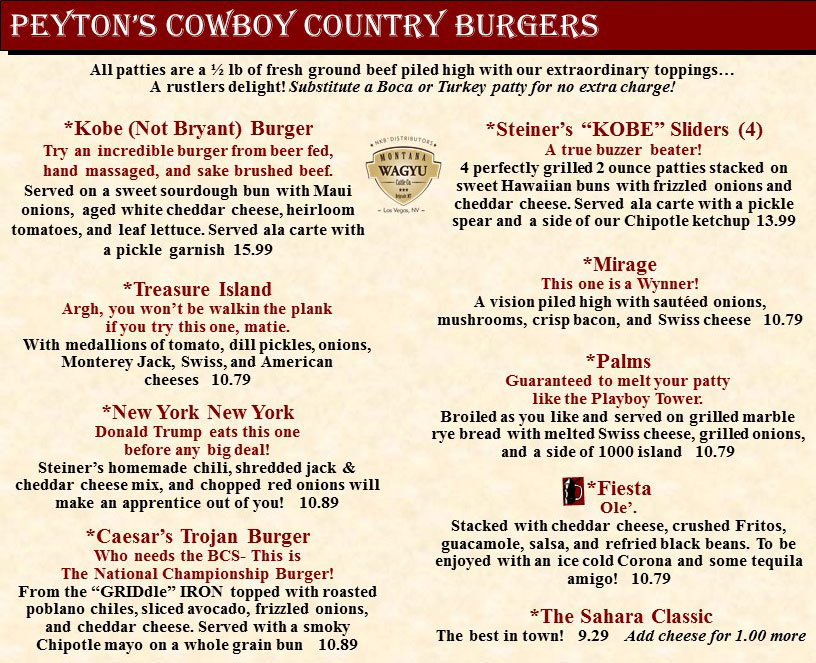 These are lunchtime meals you'll order again and again. Everything offered on the sandwich and burger menus is something creative and memorable. And all these amazing sandwiches come with your choice of house made potato salad or cross-cut potato chips made fresh every day. Two of our favorites are the Santa Fe Chicken sandwich and the Fiesta Ole' Burger. And we're serious about becoming addicted to the food here, we've ordered those two sandwiches repeatedly even though there are many other great choices on the menu. Others agree, and tend to keep ordering thier own favorites repeatedly as well.
Steaks Seafood Pasta & More
This is no lunchtime only place. Steiner's amazing food continue on into the afternoon and evening with some of the best dinnertime meals in town. Really! The addictive nature of the food is also found in meals like the Cajun Chicken Pasta. We've tried this meal repeatedly and always end up taking half home for lunch the next day. The food is just that good. For about $16, you get a meal that rivals some of the best pasta places on the Las Vegas Strip. And there are a lot of pasta restaurants on The Strip!
The Brew Collection
Steiner's offers one of the best considered collections of brews on tap anywhere in town. No matter what your preference, even a warm Guinness, Steiner's is your place. Sometimes it seems as though everyone here love's their job. Nowhere else does that show more than in their willingness to explain what's on tap and to help you dial into something you can really enjoy. Steiner's excels at almost everything they do, and their brews are no exception. We have never failed to find something perfect on tap, no matter what we're in the mood for.
Did We Mention The Awesome Service
You're going to get great service here. There's no doubt about it. Even if it's busy, the great people who work here no how to serve a crowd well. Always happy to recommend and meal taylored to your taste or to suggest one of their own favorites. We love the food here and the people too. Steiner's is a true gem we hardily recommend.
Steiner's is located at 8168 S Las Vegas Blvd, Las Vegas, NV. They're open 24 hours a day steinerspub.com
Enjoy!