There are not a lot of places in Las Vegas where fun can be had for just a few dollars. Vegas is essentially dedicated to making money, so nearly everything here that's worthwhile ends up costing something. However, one exception is the KISS Mini Golf at the Rio Casino on Flamingo. Having moved from their original location across Harmon from the Hard Rock Hotel, this fun and easy course is a great find for anyone with kids.
The mini golf course is decorated with KISS imagery everywhere and large videos screens display live footage of the band performing. Although the course is laid out on a simple pattern, there are some inventive traps along the way to trip you up and make the course more challenging. The scenery is all decorated with black-light illuminated paint, as well as the guides on the floor that make out the course pattern.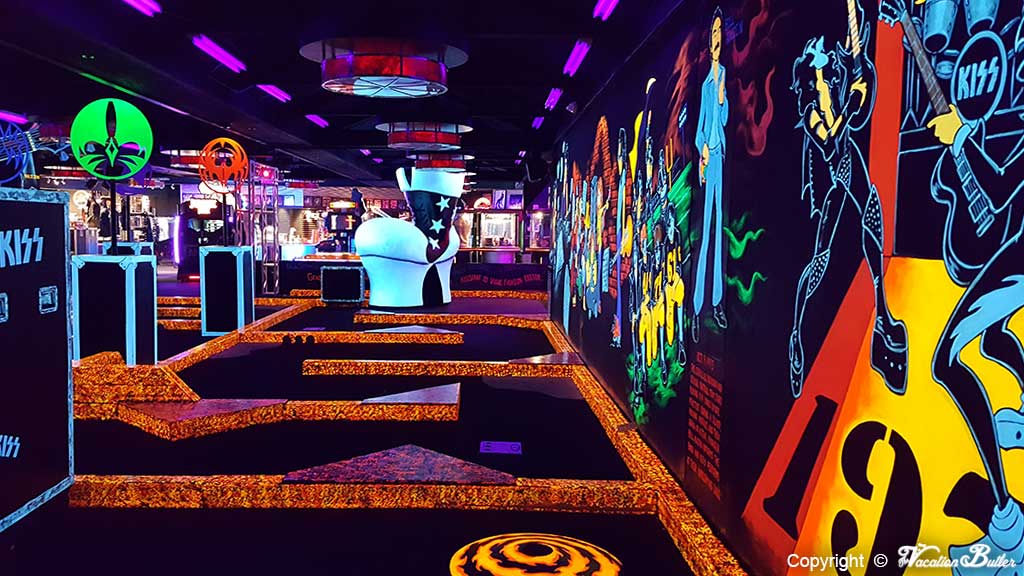 In addition to the mini course itself, there is an area of video games and of course plenty of souvenirs to buy as well. All in all, the KISS Mini Golf is a good way to enjoy an hour of your time with friends and family and not spend too much money wihile you're doing it. Locals be sure to mention you're from town and show your ID for a discount on your play.
KISS Mini Golf is open daily: 10am – Midnight
Cost to play Mini Golf $11.95
Locals w/ NV ID $9.95